Tag Archives:
patience
https://www.lds.org/blog/how-to-pray-in-a-way-god-can-answer?lang=eng
How to Pray in a Way God Can Answer
April 12, 2016
It's 4:30 a.m. and my two-month-old son is up again—for the fourth time tonight. "God, please help him to go back to sleep," I silently beg in my head.

Nope. He's still awake.

I pick him up, feed him, and put him back down. "God, please help him to sleep in!"

Nope. He doesn't sleep in and wakes up an hour later.

Now repeat this scene for two more months.

I think when my third child was born, a good 90 percent of my prayers revolved solely around our collective sleep patterns. However, these prayers never seemed to be answered—at least not in the time frame I was hoping for.

This did not cause me to lose my faith in prayer or the power of prayer, but it did cause me to reflect on how I could improve my prayers to ask for things that God is more able to answer.

The Bible Dictionary says: "We pray in Christ's name when our mind is the mind of Christ, and our wishes the wishes of Christ—when His words abide in us (John 15:7). We then ask for things it is possible for God to grant. Many prayers remain unanswered because they are not in Christ's name at all; they in no way represent His mind."

What are those things it is possible for God to grant? How could I make sure my wishes are the wishes of Christ?

To figure this out, I drew a little diagram: my desires on the left, God's on the right, and things we both want in the middle.
On the left I wrote some things I tend to pray for a lot (sleep, ease, comfort, health, happy and obedient children, happy husband, everything happy and easy); in the middle are the things that I want that I'm sure God wants for me too. These circles are not mutually exclusive. It could be God wants everything in the left circle as well; I'm just not sure what His will is for those desires yet. But I am sure He always wants me to keep His commandments and to be faithful, kind, and forgiving.
On the right, I wrote things God wants for me that I don't always want for myself. The biggest thing here is trials. I rarely want them, but I fully admit my times of trial are when I learn the most and grow closest to God. It's good for this heart-changing goal we both have. Also in this circle could include commandments that are particularly difficult for me to keep.
I noticed that the things I want are largely circumstantial things—things based on the circumstances of life—while the things that God wants for me are mostly un-circumstantial (don't look that up; it's not really a word), or things relating to the state of my heart.
Does this mean I should never ask for circumstantial things that I want? No way! Does this mean God will never answer my prayers if I just ask for things I want? Certainly not! I have had way too many experiences praying for things I want when God has given them to me to think that God doesn't care about the left side of this diagram. I think God loves every one of us and cares deeply about our wants. I think He delights in giving us even those little things we ask for sometimes. Like any good father, He knows how to give us good gifts. But above all, He wants what is best for us, and what is best for us eternally does not always include the circumstances we desperately hope for.
So how to pray to align these two circles? How to pray for the things I want while accepting God's will and His desires for me?
I came up with a little formula to help me in my prayers. It is simply this—whenever you ask for something you want and you're not totally sure if it's something God wants for you, tack on the phrase "but if not" and then add something you're sure God would want for you.
For example: "God, please help me get some sleep tonight, but if not, help me to have enough energy to be pleasant and hard working anyway." "God, please bless that my child will get over this sickness and feel better, but if not, help us to trust in Thee and be patient with each other." "God, please bless that I will be included in my group of friends, but if not, even if I feel excluded, help me to be kind and generous."
I've tried this out for about a year now, and I can say my rate of prayer success has skyrocketed. Here are some benefits I've experienced so far:
I feel like I'm finally fulfilling the real purpose of prayer, which is not to negotiate my desires, but to align myself with God. The two circles from my graph have grown much closer since praying in this way.
An unexpected benefit has been that I don't fear hard situations or not getting what I want nearly as much as I used to because I've seen and felt God answer my prayers—both my desires and my "but if nots."
It's been a great exercise in praying not for my circumstances to change, but that I in my circumstances may be changed, which is what Elder Bednar says is the key to unlocking grace in one of my favorite gospel talks of all time.
I feel a deep trust in God growing up inside me.
And eventually my son and I did get more sleep (though he still has this lovely habit of waking up at 5:30 a.m.). But that's OK. I may not always get what I want when I want it, but I can feel God's love and receive those things I need to become the person He wants me to be.
---
Celeste graduated from BYU with bachelor's and master's degrees in sociology. Her proudest accomplishments include her marriage, her three kids, and that one time she had all the rooms in her house clean at the same time.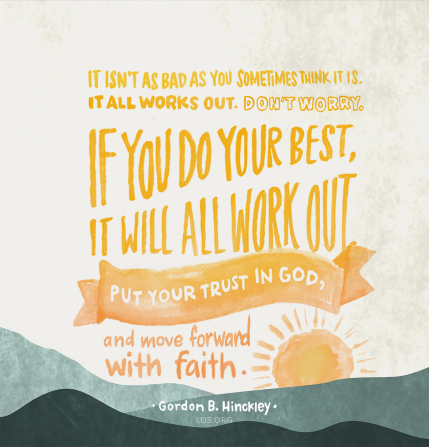 A LOOK TO SEE THE SWEET MOTHER OF JESUS – MARY
November 9, 2016
About a year and a half ago I knew exactly what I was going to do with my life. I knew what I wanted, I had a plan to get there, and I put in the hard work needed to make it happen. I wanted good things, I took it to God in prayer, and guess what happened? I failed. I failed and because I did, it changed my perspective on life, who I am, and my relationship with God.
I believe God gives each of us gifts or natural abilities. Mine was the ability to perform. Ever since I was a kid, I have loved to perform, and I have a natural flair for making people laugh. In college I turned that gift into a talent when I became a stand-up comedian. I loved it. Performing felt like me. I was Stephen Jones the entertainer.
But then I got married. And life started to get real, real fast. As my wife and I started talking about having kids, I started stressing about having an "adult" job, getting insurance, and being able to provide for a family. I felt like to be a grown-up, I needed to say good-bye to carefree, funny, performer Stephen (this part of me that I really loved) and say hello to a 9-to-5 desk job that I took because the pay was good and it would give my family health insurance.
So I took a job for health insurance. And I hated it. It wasn't me. That first day I went home and literally cried. I remember thinking, "Heavenly Father, what in the world am I doing?"
I believe God cares about what we do with our lives. I believe He wants to help us. But what I learned through my experience is that He expects us to act. He expects us to do something about our dreams.
And so I did. After bouncing from four jobs in four years, I decided I needed to act bigger. I needed to figure out who Stephen Jones really was and what I should be doing with my life. In the process of thinking and praying about this, I came up with a question that helped me focus my search. It's a question I now live by.
"Will this matter in 1,000 years?"
As I thought about that in terms of a profession, I decided that for me, that job I was holding down just for health insurance, the one that left me unfulfilled, wasn't going to matter in 1,000 years. So I quit. And I focused on my dream to be a high school religion teacher. Surely, that'll matter in 1,000 years, right? I went through the arduous process of applying to the program, I threw myself into student teaching, and at the same time did acting and entertainment gigs on the side so that I could keep paying my bills at home.
I felt like everything was going well. I was feeling blessed. And then when it came time for them to hire, I got an email that began, "I regret to inform you …" I was crushed. After months of putting my heart and soul into student teaching and praying to God that I would get a teaching job, I wasn't hired.
In this program, when you get a "no," it's usually pretty final and you shouldn't try again. But for me, there was still a glimmer of hope. Even though I hadn't been hired, they said I could continue to student teach and wait to see if something opened up. So I taught. And I loved it. A few weeks later I got a call from the director of the program asking to speak with me and my wife. I thought, "This is it. It's going to happen."
We met with him and he extended an offer to teach religion—out of state. This was not what I was expecting. It was not what I thought my wife and I would need to think about and pray about over the weekend. But we did. We asked God, and it just didn't feel right. Days later I found myself calling up the director and saying, "I am so grateful for the opportunity, but it just doesn't feel right. I have to do what's right for my family, and I can't accept the job."
In my heart I thought, "Well, that's it. This dream is done. Here I am choosing something that will matter in 1,000 years, it's a good desire, and it seems like God is not making it happen—or at least in the way I wanted or expected. Why?"
Hindsight is 20/20, and you could say that now I understand why. After I said no to moving out of state, they said I could keep student teaching. Choosing that path would put a financial burden on my family, and I needed to put them first, so initially I said no. But then, on the last day of class, I realized that this was who I am—this is what is going to matter for me in 1,000 years. I need to teach. So I acted in faith, saying I'd be back to student teach even though financially I didn't know how that would work for my family. But it felt right. And I trusted that if I acted, it would all work out.
I taught. And it was hard. It didn't seem like things were working out. As soon as I said no to moving out of state, the acting gigs stopped coming in, which meant money stopped coming in and bills weren't getting paid. My job situation caused stress on my family, and within my soul I was starting to wonder if my faith and hope in God was even working.
And then, the answer. Two months after saying no to an opportunity that didn't feel right, two months of struggling financially, the phone call came. A teaching position had opened up near my home and they offered me a job. It came right when I needed it, right when I was at my lowest. And after that call I looked up and said, "I trust you. I trust you."
God knew me. He had answered my prayers. But He made me wait on it. He made me stretch. And sometimes He does that—even when we want good things, even when we're focused on things that will matter in 1,000 years. The point is if you trust Him, He will never let you down, because He looks out for us today, tomorrow, 1,000 years from now, and for eternity.
So what are you worried about right now that's not going to matter in 1,000 years? And what are you going to do that's going to matter in 1,000 years?
Answer those questions. Ask God for help and clarity. And then trust Him.
God knew me. He knew the purpose of my failures. He knew the purpose of my wait and how I would grow because of it. I just needed to learn to act and to trust.
Because sometimes the greatest "failures" in life turn out to be just what we needed.
---
Stephen Jones is a husband, father, comedian, actor, host, entertainer, business developer, and high school religion instructor. He graduated from Brigham Young University and has appeared on various television shows, commercials, films, and online videos. Stephen has a passion for making people smile and finds joy in doing things that really matter.